Send a Screenshot to Support
To send a screenshot to support please do the following:

On your taskbar look for the Support Icon.

[ Note: if you do not see it click on the up arrow as shown below in #1 ]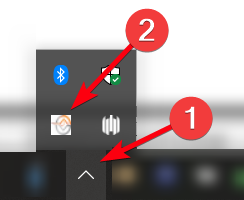 On the support icon RIGHT mouse click and choose Help Desk Screenshot as shown below.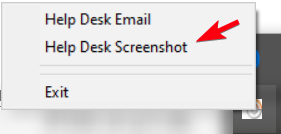 The software will take a screenshot and attach it to an email along with your PC information.

Please enter details on the issue and press SEND.

Related Articles

Resetting a Microsoft Outlook 365 Password

If you can receive email on your computer or smart device (tablet/phone) but do not know your password and need to reset it please do the following. To reset your Microsoft 365 and Spam Portal password please go to: [ Link will open on a separate tab ...

cFax Sending a Fax

Cytracom Help Link How to Send a cFax (Will open on new TAB)

NEW Azure PC Setup

When you receive your new computer please follow these initial instructions to set it up. The machine will be initially setup with minimal requirements in order for us to take over and add it to your existing network infrastructure. ** IMPORTANT ** ...

New PC Setup

Please use the following instructions ONLY if you were asked to establish a LOCAL ADMIN ONLY. account. DO NOT USE THESE Instructions for setting up an Azure Account on a new computer. For new computers with an Azure Admin use these instructions. When ...

REALTIME Managed RMM Agent Install

On the PC where you will install the agent please open a Browser and go to: https://download.rt-ms.com [Link opens in separate tab] On the Password field enter the password provided by IT when you received these instructions. Once you enter the ...